In the late Elizabethan Era, "French Bodies" were fully boned bodices, frequently with busks, that laced up the front and were meant to be worn underneath outer garments--in other words, corsets or stays.
This corset was made in the style of the Effigy Corset, currently dated to 1602. It has an outer layer of heavy red silk satin, and an inner layer of heavy linen twill. The edge is bound with black silk taffeta, and it is boned with a modern equivalent of "bent grass" (aka size 00 basketweaving reed) and with artificial whalebone.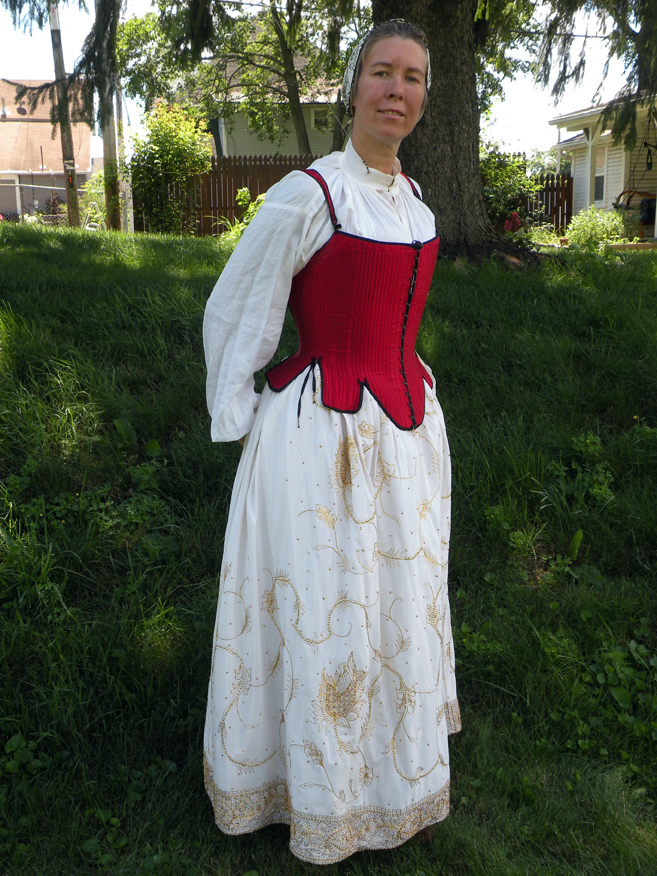 I'm wearing these French bodies with a high-necked linen smock and a white silk petticoat embroidered in gold.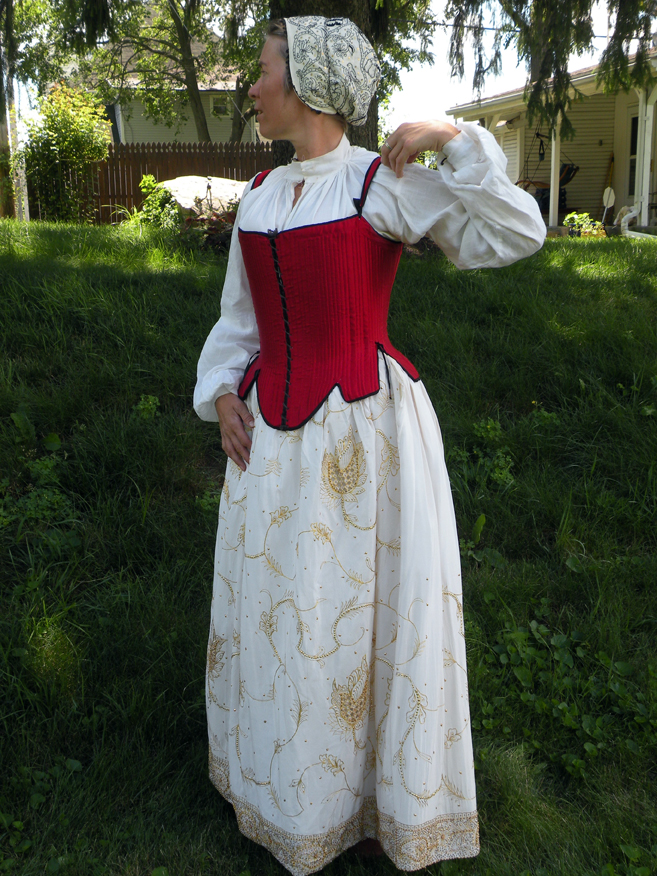 Each channel is boned with four pieces of 00-sized basket reed. The wider channels (one on either side of the front lacing, and one down each channel) are boned with artificial whalebone.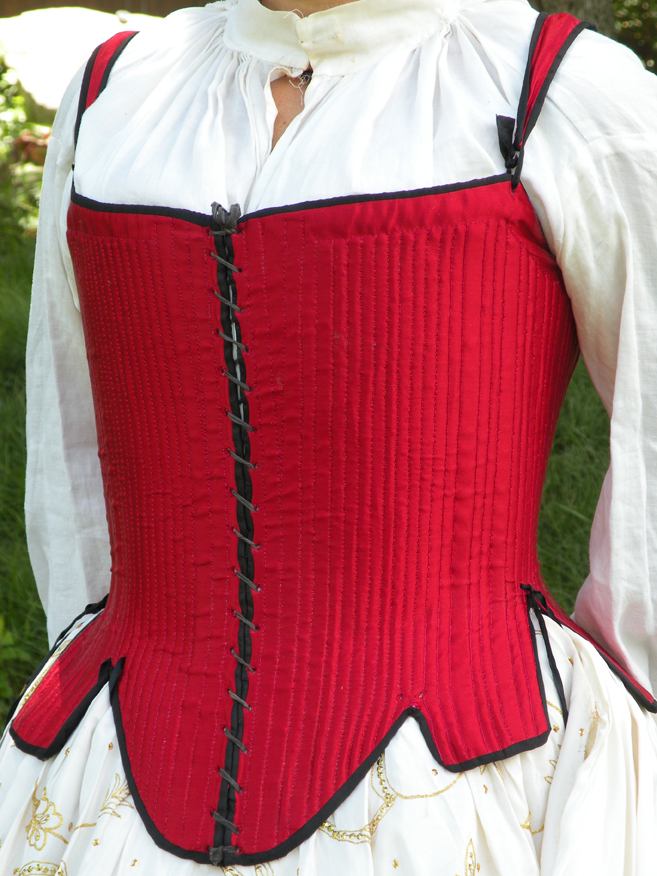 The reed boning in the bodies is flexible, springy without breaking, and holds shape surprisingly well. ( I'm a DD, and have had no problems with reeds breaking or bending too much.) Reed is also wonderfully lightweight and much more breatable and comfortable than steel or artificial whalebone.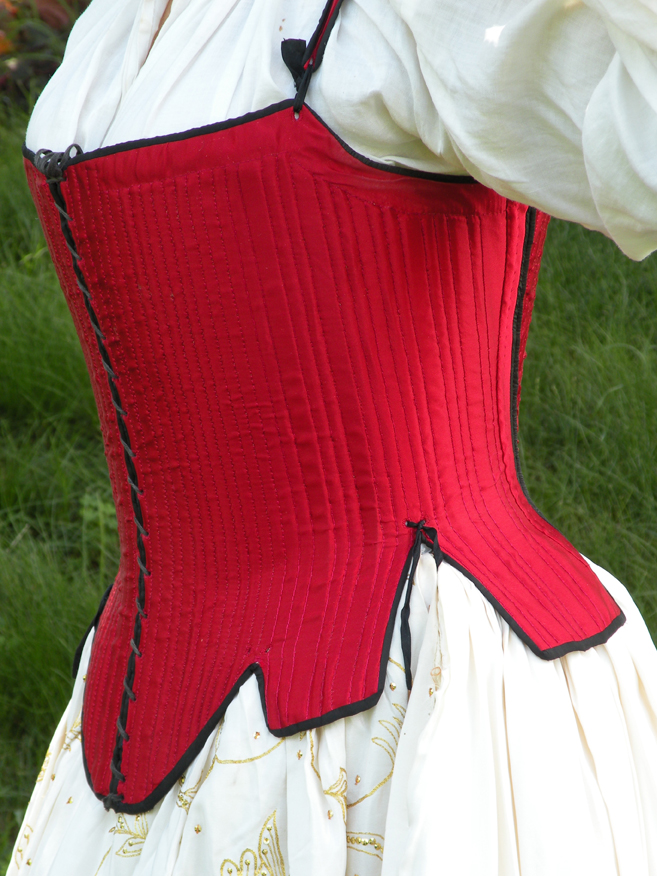 There is no wooden or horn or whalebone busk in these stays. There are two pieces of artificial whalebone going down either side of the front lacing. "Pairs of busks" are mentioned in Queen Elizabeth's Wardrobe accounts; these were probably meant for front lacing stays, with one busk on either side of the lacing.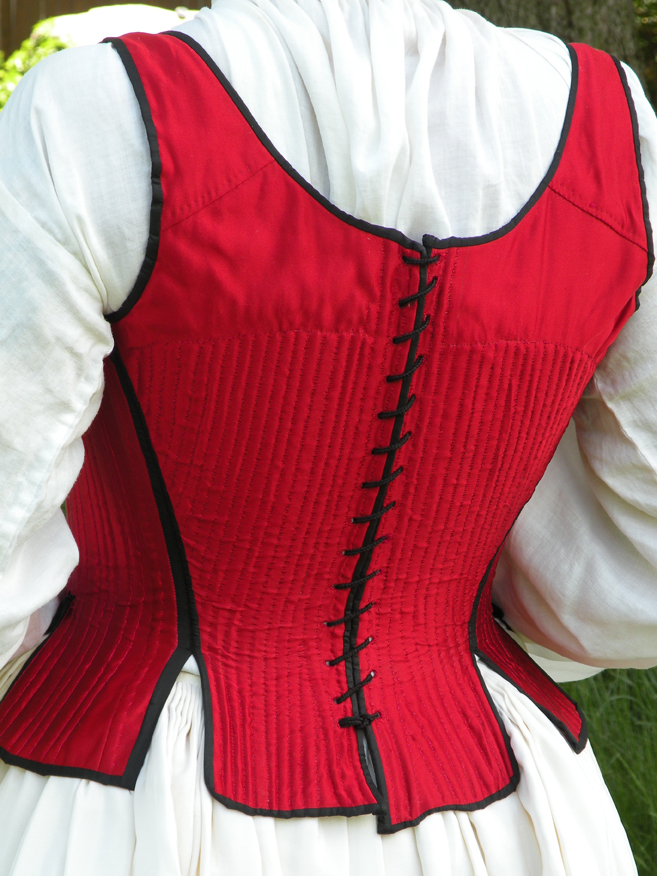 These stays, like the effigy stays, are made of two front section and a back section (two back sections in mine, as I added back lacing.) All sections were completely finished, and then whipstitched together along the side back seam.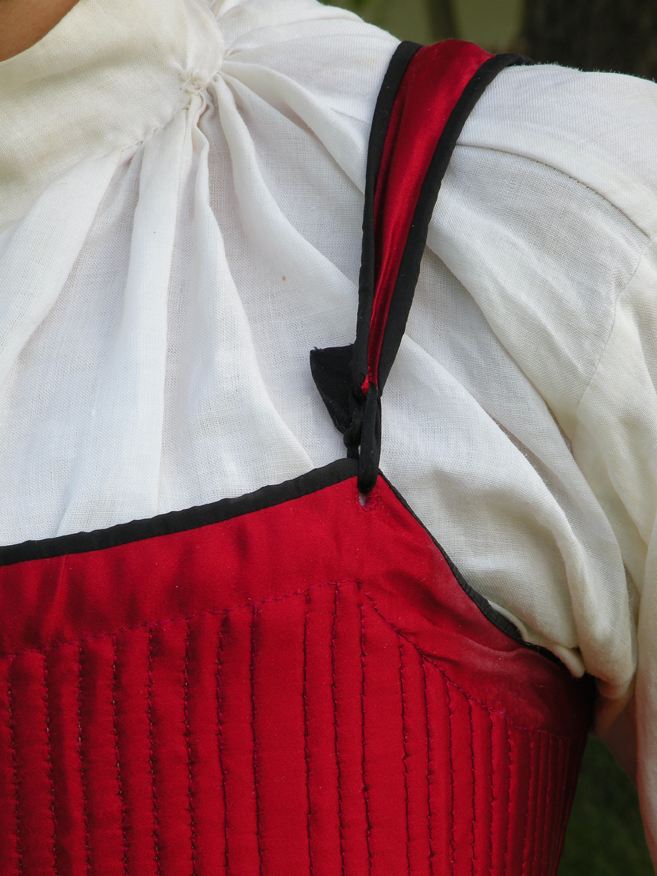 The straps tie to the front neckline with points. This allows for adjustable straps, and also makes for very comfortable wearing; the narrow front strap end permits bodices with wide necklines to be worn over it, and does not dig into the arm like wide-set straps are prone to do.
Pairs of holes at the waistline were used for points. These points could tie a petticoat or farthingale to the stays, to keep it from sliding down. This method also transfers the weight of skirts and farthingales from the waist to the shoulders, making the garment more comfortable to wear. These points are black silk ribbons tipped with brass bugle beads.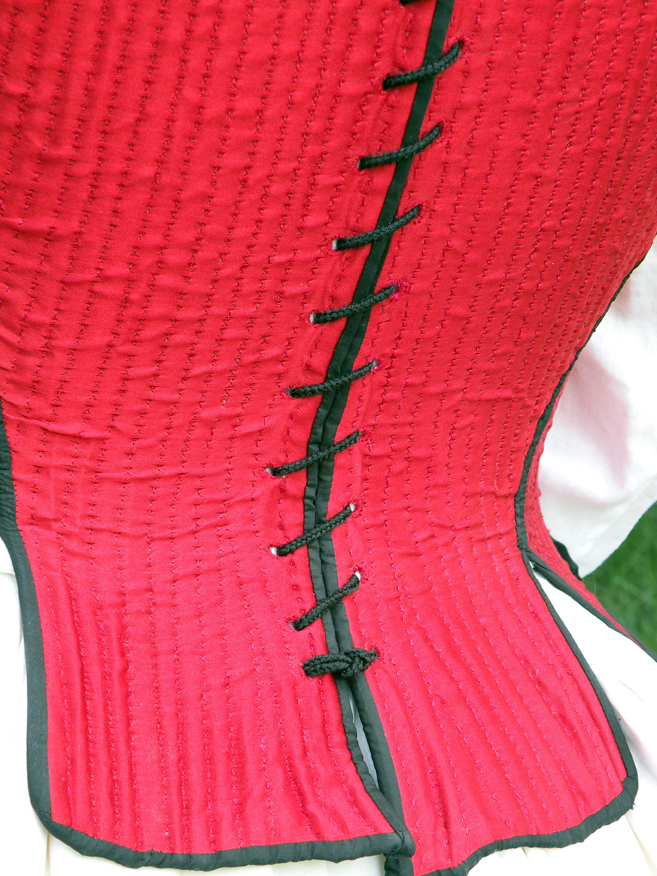 Unlike the effigy stays upon which they were based, these french bodies lace up the back as well as the front. I did this to allow for more adjustibility in sizing--as I gain or lose weight, I can adjust the back lacing and still have the front lacing close completely.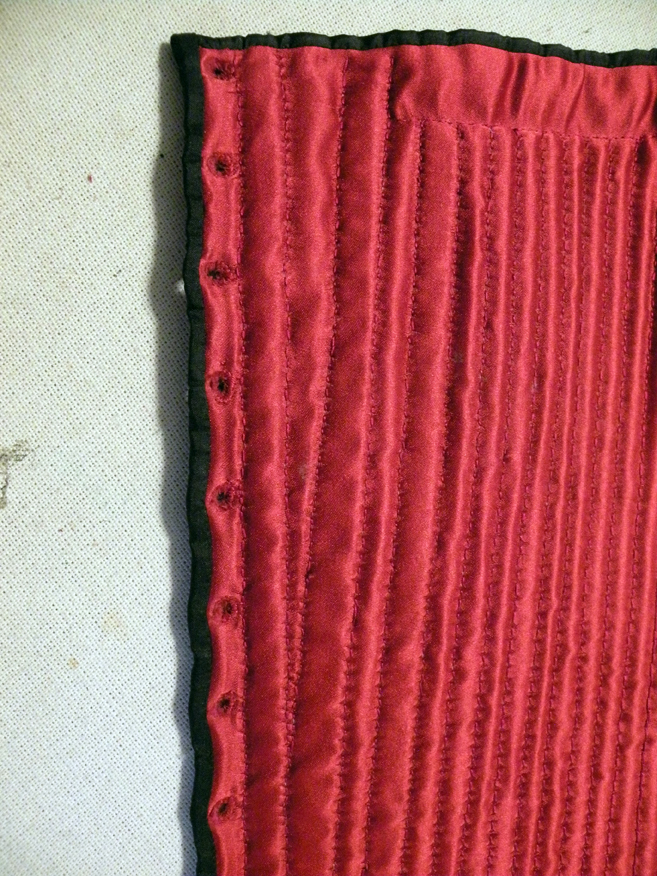 All channels were stitched with a backstitch using buttonhole-twist weight red silk thread.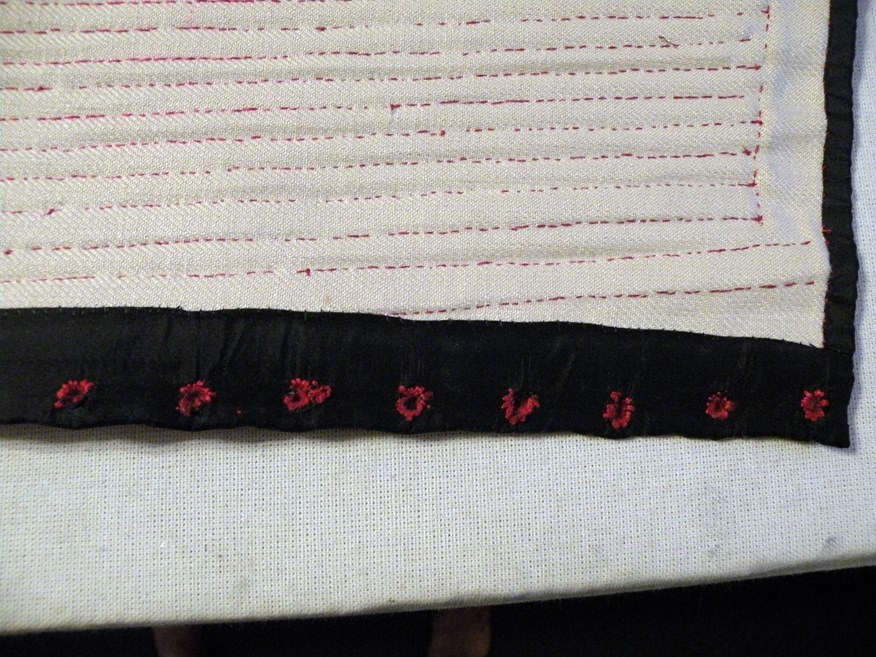 Here you can see the backside of the channel stitching.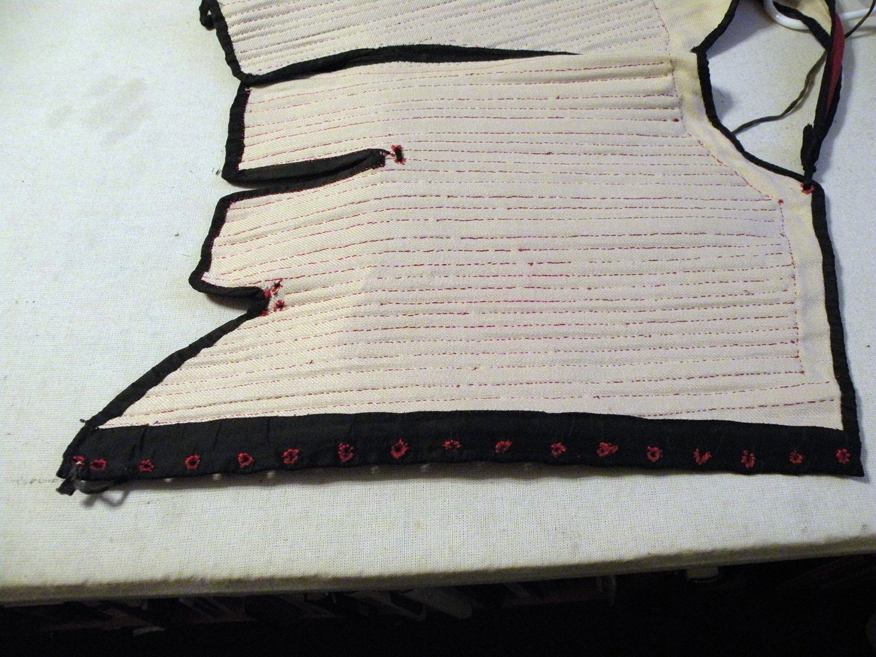 Like the effigy corset, the channels end an inch or so below the top edge. I This makes the top edge flare slightly and makes the corset more comfortable for long term wear, as the top edge under the arm doesn't cut in quite as muc.
---
Back to Lady Drea's Wardrobe Unlock'd