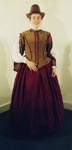 1580s Kirtle & Doublet
"Item A dublett of tawney fustian, guarded with russet weltes, with a russet kirtle to the same."
Kirtle
This kirtle & bodice, also known as a "petticoat bodies", would have been worn by a Gentlewoman of modest means in the latter half of the 1580s. The kirtle bodice was patterned after the kirtles in Alcega's Tailor's Pattern Book, the skirt patterned after a petticoat shown in Arnold's Patterns of Fashion. It is made of a wool-cotton blend, and laces up the back side with a matching russet silk ribbon. You can learn more at this page on Making a Kirtle
Doublet
The shape of the woman's doublet worn over the kirtle s based roughly on that in the Portrait of Lettice Knollys, Countess of Leicester, painted in 1585, supplemented with patterns out of Alcega's Tailor's Pattern Book and woodcuts from the 1580s and 1590s. The sleeves and front button closure are fashioned after a pair of slashed sleeves with double button loops found in Janet Arnold's Patterns of Fashion.
The doublet is made of a tawny brushed cotton similar in texture to period fustian. It is decorated with welts of the same russet fabric of which the kirtle is made, and is lined in straw-coloured linen. The buttons are brass. The buttonloops on the sleeves are of waxed linen cord. The points which tie the sleeves to the dublet are of russet silk, tipped with brass points.
The hat worn in the photo above is taken from a 1570 sketch of London Gentlewomen by Flemish artist Lucas de Heere.
Underneath, I am wearing a smock, corset, a farthingale made after Alcega's Farthingale Pattern, and a small bumroll.


---
Back to Lady Drea's Wardrobe Unlock'd