Jewelry in Elizabethan England
---
Introduction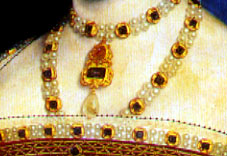 Compared to the complex faceted cuts used on modern gems, the art of gem faceting in the 16th century was quite rudimentary. The common cuts of today's stones were not in use in the 1500s, which can make finding authentic-looking jewelry difficult. In the 16th century most gems were cabochon cut, with a smooth, rounded top, or table-cut (a cabochon with the top cut off, creating a flat surface.) They were oval or square in shape. For very hard stones, like diamonds, a pyramid-cut which created a pointed gem was used. Later in the century the hog-back cut was invented (beveling the table-cut gem around the edges to create what we consider the classic "emerald" cut), and around 1600 the rose-cut, which made gems glitter and sparkle more.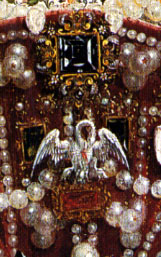 There was, however, a great deal of complex gem-carving in the 16th century. Cameo carvings were popular, as were semi-precious stones carved into the shape of ships, women, and animals.
Gems used in 16th century jewelry included the diamond, ruby, emerald, opal, topaz, and sapphire. Other hard stones, used for beads and cameos, included turquoise (called "Turkey stone"), carnelian, jasper, onyx, bloodstone, moss agate, chalcedony, crysoprase and sardonyx. Freshwater and sea pearls were both used.
In the 16th century, the goldwork of a piece of jewelry was as esteemed as the jewels it surrounded. The modern prong-setting for jewels was rarely seen. In the early 1500s the settings for jewels were often plain gold wrapped around the bottom of the gem, but after 1540 they began to become more and more elaborate, often imitating petals or acanthus leaves, sometimes more impressive then the jewels themselves.
Pearls were also an integral aspect of 16th century jewelry. They could be worn singly, in strands. They could be clustered in twos and fours and combined with goldwork to create elaborate billiments, necklaces or girdles. They could be sewn to clothing singly, set in elaborate goldwork settings, or used to decorate hairstyles.
Goldwork, especially goldwork depicting a particular scene or item, was often enameled with colored glass. To moden eyes this tends to look "cheap" in comparison to plain gold and jeweled items, but it was very much to the taste of 16th century women.
---
Necklaces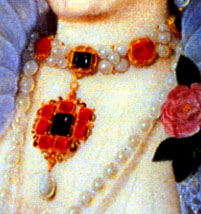 Gold chains and strings of pearls of varying lengths and sizes were the most common type of jewelry worn by both the richer merchant classes as well as the nobility. The rich sometimes wore several strands of pearls together. Carcanets (rich, wide chokers) and collars, made of goldwork, jewels set in elaborate settings and clusters of pearls, were also worn, often in combination with other chains and necklaces. Beads made of gold, or carved of precious and semiprecious stones, were incorporated into necklaces and carcanets. The middle classes wore more modest necklaces, often enameled; a necklace of small enameled flowers was recently found in a London dig, looking for all the world like the delicate necklaces which are currently popular with teenagers.





Enameled Gold Chains from the Cheapside Hoard
See some more Necklaces in Elizabethan Portraits
---
Brooches and Pendants
Brooches were popular during the early 1500s. They fastened with a pin on the back and were often secured by ribbons as well. They were often shaped like a cross or depicted a particular scene. They fastened to a gown's neckline, and were sometimes used to pin partlets closed. They are also seen on hats. Brooches fell out of fashion later in the century, and were succeeded in Elizabeth's time by pendants.

Pendants were elaborate creations of gold, jewelry, enamel and pearls. They often had teardrop pearls hanging from the bottom. Pendants in the form of crosses, cameos, and goldwork scenes depicting religious and classical events were common. Sometimes the cameos were partially covered with gold leaf.

In the later 16th century, naturalistic pendants composed of a large baroque pearl with enameled and jeweled goldwork attached became popular. They came in the form of mermaids, swans, birds, dolphins, spiders, fruit,flowers and more. Miniature paintings came into vogue in the later 1500s, and were often worn as pendants. The "Tablet", the period word for a locket or a pendant which opened to show a picture or scene inside, was commonly used to hold a miniature.

Miniature paintings also flourished in the later 16th century. Nicolas Hilliard, famous as a miniature painter, painted miniatures of Queen Elizabeth and several of her courtiers.

Pendants could be suspended from a necklace or carcanet, worn on a ribbon around the neck, attached to a gown or sleeve, attached to the end of a jeweled girdle or even attached to a bodkin and worn in the hair as an ornament. Some were worn on a hatband as well.

See some more Pendants in Elizabethan Portraits
---
Rings

Rings were worn by both the middle classes and the nobility, and were often worn on the second joint of the finger as well as the first. Larger jewels, either cabochon or square-cut, were worn as solitaires; smaller stones were set in clusters or around the ring in a band. Gold bands engraved with a motto inside were often worn as wedding rings. Signet rings were sturdy, meant for daily use and business. They were often of gold, and sometimes of carved semi-precious stone. Signet rings could be enameled as well. A nobleman's signet ring could depict the family's heraldic device.



---
Earrings
In the later 1500s when a woman's hair and ears were no longer covered by enveloping headwear, earrings became fashionable. Earrings could be a single ring, jewel or pearl. Pendant earrings were also worn, often with one or three pearls or teardrop-shaped cabochons hanging from the central jewel. The earring could also be threaded on a ribbon which was threaded through the earring hole with a needle and tied in a bow; this was seen near the end of the 16th century especially.
---
Single Jewels, Buttons and Aglets
Single jewels could be sewn onto clothing. The settings for these jewels often had four loops at the corners to aid in stitching them to a gown or sleeve. Metal and enamelled buttons with a jewel set in the center, or a button carved entirely of precious or semi-precious stone, were used on doublet gowns and sleeves. Aglets could be made entirely of goldwork, sometimes enamelled or with a jewel set in the tip. Some were carved of crystal or semi-precious stone. See how single jewels were used in these Pictures of single jewels and aglets
---
Billiments
Billiments were sewn along the neckline of a gown and along the top and bottom of a french hood. They were quite ornate, and often involved jewels or goldwork separated by clusters of pearls.Billaments and carcanets (close-fitting collars worn around the neck) often matched.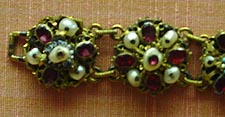 ---
Girdles
Girdles were what Elizabethan women and men wore as belts. They often matched the style of the chain worn at the neck, or the billiment sewn to the neckline. Clusters of pearls, decorative gold links, and set jewels could be combined to make a girdle. Some girdles were long sashes of silk with jewels set on them. Girdles attached around the waist and often hung down two or more feet. Pomanders, tablets, pendants or girdle books could be attached to the end. Fans, girdle books, purses, needlecases, scissors and a variety of other items could be attached to the girdle itself.

Two Pomanders
The first is attached to a girdle; the second, a skull pomander.

A Girdle Book
This fabulously enameled girdle book cover would have contained a small book of psalms or prayers. It would have hung from the girdle of an Elizabethan noblewoman.
Check out these other Pictures of Girdles to see the variety found in Elizabethan belts.
---
Rosaries
Rosaries, called "Pairs of beads", were worn by Queen Mary, Queen Katherine of Aragon, and other catholic women when the religious climate allowed it. The beads were often coral, rock crystal or other stones, and could include enamelled goldwork, images of saints and other symbols. Queen Mary Tudor owned a rosary of carved agate beads which opened to show enamelled gold scenes from the Gospel.
---
Elizabethan Jewelry on the Web
---
Home