16th and 17th Century Coifs
The coifs pictured below display a cross-section of the wide variety of embroidery techniques popular at the end of the 16th century. Blackwork embroidery, or monochrome embroidery using one color of thread (black and red being the two most popular colours for this technique) was often used on coifs. Two coifs kept by the Embroiderer's Guild are embroidered with whitework (white linen thread on a white background) and use needlelace and cutwork as additional forms of decoration. There are even some coifs embroidered in multi-coloured silks and metallic threads to create beautiful, almost three-dimensional tapestries of curling plants, animals, and other symbolic objects. Metal Spangles, or sequins, are also pictured on one of the coifs below. Click on the pictures for larger close-ups.
Many coifs ... used metal threads in plaited braid or chain stitches to work the stems, and a variety of detached buttonhole stitches to create fruit and flower motifs in relief. Today many people are captivated by the informality of such designs which mix flowers and fruit in seemingly incongruous combinations: the grape with the pea plant; a fomral lily with a humble pansy. To us a strange choice perhaps, but one which reflects the former importance and status of different plants. It has been suggested that the coiling stem is a descendent from Celtic design, most famously interpreted in Opus Anglicanum as the 'tree of Jesse'. It seems plausible that after the Reformation of the Church, professional embroiderers formerly providing ecclesiastical commissions should apply their designs, such as the fruiting vine, to secular uses. Similarly the appropriation of church vestments for domestic use may have helped to widen the popularity of formerly religious motifs."
The pictures and accompanying descriptions below were scanned and typed in by Karen Harris (Karen@agent.infodata.com) and are mostly taken from the book TREASURES FROM THE EMBROIDERER'S GUILD COLLECTION and EMBROIDERY 1600-1700: AT THE BURRELL COLLECTION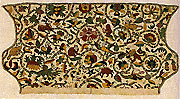 Coif, early 17th century
Linen worked with silk threads. The colors are unusually vivid and in places two different colored threads have been twisted together to give an intermediate shade. Various animals, including snakes, are included among the flowers. 25cm x 45cm.
This coif...would originally have had a drawstring along the undecorated edge which fitted the back of the neck. Various animals appear mong the flowers, some of which are the animal representations of the senses. For example, the dog represents smell, the stag, hearing, the boar, lust and the rather strange human-like monkey eating an apple is taste. There are also heraldic beasts such as the lion and leopard and at the lower right, a wyvern, traditional symbol of cruelty. Coiling among the stems are snakes, which denote wise actions and logic because of their association with Asclepius, the Greek god of medicine; they also stand for healing. The pomegranite bursting open with an abundance of seeds probably represents fertility. These symbols would originally have been readily understood by the educated, but by the end of the century they had lost much of their significance and become formalized motifs.
--EMBROIDERY 1600-1700 AT THE BURRELL COLLECTION, by Liz Arthur.
---

Coif with forehead cloth, early 17th century.
Embroidered with flowers and fruits, including strawberries and borage which were often depicted together as it was known that they grow better in company with each other.
Coifs were sometimes worn with a piece of triangular fabric stitched to the front with the point towards the back. These were called forehead loths and although their exact purpose is uncertain it is known that they were worn during illness. Fynnes Morrison wrote in 1617 that "Many weare such crosse-clothes or forehead clothes as our women use when they are sick." The tragic scene of "Sir Thomas Aston at his Wife's Deathbed," painted in 1635 by John Souch, shows Lady Aston, who died in childbirth, wearing a linen cap with a broad lace band covering her forehead. The more cheerful and charming painting of Sir Richard Saltonstall by the bedside of his wife who had recently given birth shows her with a linen cloth covering her forehead. This painting is attributed to David des Granges and is dated about 1638.

This coif, which still has its forehead cloth attached, dates from the early years of the 17th century. It is worked with roses, pansies, strawberries, borage and honeysuckle. The coif and forehead cloth were made separately and then stitched together.

--EMBROIDERY 1600-1700 AT THE BURRELL COLLECTION, by Liz Arthur.
---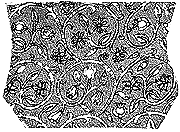 Coif, c. 1600-1630.
Worked in black silk threads and spangles, many of which are missing. The small size suggests that this may have been worn by a girl. 22.5cm x 31cm.
An interesting blackwork effect was created on this coif, where the scrolling pattern has been defined by the area left unworked. This is known as voiding. The background has been embroidered densely with diagonal rows of stitches and the unworked areas have been filled with spangles.
--EMBROIDERY 1600-1700 AT THE BURRELL COLLECTION, by Liz Arthur.
---

Detail of coif, c. 1600-1640
Linen with cut-work, silk threads, and silver and silver-gilt threads in chain stitch in a delicate design of flowers and birds, edged with silver lace. 21.5cm x 43cm.
--EMBROIDERY 1600-1700 AT THE BURRELL COLLECTION, by Liz Arthur.
---
Panel, possibly from a coif
English, early seventeenth century. Linen embroidered with a scrolling pattern in silver-gilt thread, the flowers, animals and birds in varied techniques including plaited braid, chain and detatched needlelace stitches in silk with metal strip and spangles. The embroidery is highly textural, the top layer of the peapod peels back to reveal golden peas, and some of the flowers are worked over padding whilst others, and the bees wings, are detatched.
--TREASURES FROM THE EMBROIDERERS' GUILD COLLECTION, "From Tudor Coifs to the Twentieth Century," by Lynn Szygenda.
---

English coif, early seventeenth century
Linen ground fabric embroidered with silk and silver-gilt threads, silver strips and a few spangles. The stems are worked in plaited chain, whilst the flowers are embroidered in detatched lacework. The coif has been opened out to show the complete embroidery design.
--TREASURES FROM THE EMBROIDERERS' GUILD COLLECTION, "From Tudor Coifs to the Twentieth Century," by Lynn Szygenda.
---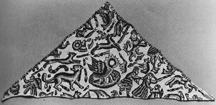 Triangular forehead cloth
Linen embroidered with black silk. English, early 17th century.
--Photograph from the Victoria and Albert Museum

---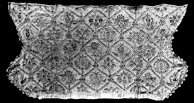 Woman's coif, late 16th century
Linen embroidered with white linen thread in chain and darning stitches with cutwork and needlepoint fillings. Border of bobbin lace.
--photograph from the Victoria and Albert Museum.

---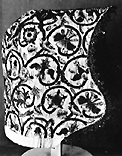 Woman's coif, late 16th century
--photograph from the Victoria and Albert Museum.

---
| | |
| --- | --- |
| | A coif, early 17th c., worked in black silk and gilt thread in a variety of stitches. A thread would be passed through the loops at the bottom of the neck to gather the coif at the base of the neck. |
---
| | |
| --- | --- |
| | English coif, c. 1600. Black silk on linen. The design contains motifs worked in counted thread connected by spiraling vines. Worked in stem-stitch, chain stitch and double running stitch. The front edge is trimmed with fine lace. |
---
| | |
| --- | --- |
| | English coif, early 17th century. A pattern of holly leaves in black silk and gilt on linen, with buttonhole stitching around the front edge. It's very similar to a coif listed below. |
---
| | |
| --- | --- |
| | English coif, early 17th century. This coif was printed with a pattern, possibly copperplate printed. Some of the lines have been embellished with silver gilt thread, couched down. The pattern on this coif is very complex and sophisticated. |
---
| | |
| --- | --- |
| | c. 1600 coif at the V&A Museum. Black silk and couched gilt thread embroidered in a design of holly berries on a linen background, with buttonhole stitching around the front edge. |
---
| | |
| --- | --- |
| | Late 16th Century Coif at the V&A Museum. Gilt thread and black silk in plaited braid, back, chain and double running stitch on fine white linen. Museum No T.11-1948 |
---
| | |
| --- | --- |
| | Late 16th century coif at the V&A. Black silk and gold metal thread on white linen. Backstitch, chain stitch, buttonhole stitch and plaited stitch used, along with speckling. |
---
| | |
| --- | --- |
| | An English coif, c. 1600, made from a rectangular panel of embroidery. Gilt thread and black silk in back, buttonhole and interlacing stitch on linen. |
---
| | |
| --- | --- |
| | A polychrome, silk-embroidered coif made of linen with gilt spangles. Currently on display at the Platt Museum in Manchester. |
---
| | |
| --- | --- |
| | A blackwork coif with silver gilt embroidery, currently at the Platt Museum in Manchester. |

Home