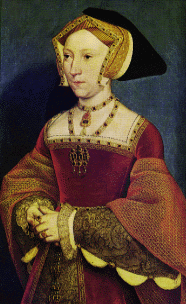 Jane Seymour
Queen Jane Seymour, c. 1536
Hans Holbein
Kunsthistorisches Museum, Vienna
This picture is very similar to Holbein's Sketch in style. The dress is of crimson velvet, and the undersleeves and forepart of gold brocade. The smooth, cylindrical torso so characteristic of this century is apparant here. The waist seam is level at the waistline.
As with the preceding dress, the neckline is very wide and the sleeves very tight. The undersleeves and underskirt might be an actual underdress, or "kirtle" under the gown, or--as was more and more frequently done as the century progressed--might be fake undersleeves and a skirt with a decorated forepart.
If you look closely at the right side of the bodice, you will see a faint line with a number of gold dots running down beside it. These are commonly presumed to be pins, which suggests that the front is laced together and a flap laid over and pinned in place. As front-lacing was quite common in the dresses of the early 1500s, This is a distinct possibility.
The large, heavy oversleeves were pinned up to display a sumptuous lining and the even more sumptuous undersleeves. In almost all portraits of undersleeves, they display large puffs of fabric--either the chemise fabric itself, or sewn puffs meant to simulate the chemise pulled through.
Another item to note is the decoration on the wrist ruffs. The ruffle itself is quite gentle at this point in time, not the tight frills and ruffs common to the later 16th. century. The ruffles are decorated with blackwork embroidery, as are a great number of chemise ruffles found in both male and female portraits of this time.
Jean Hunnisett's Period Costume for Stage and Screen contains a pattern for this dress and for the corset to be worn underneath it, as well as instructions for creating the fake sleeves and other vital information concerning the proper sillhouette and how to create an authentic look.
Next: Meanwhile, in Portugal...
---