Books on Elizabethan Costuming
Here are a few good books for the person interested in learning more about corsets or elizabethan clothing in general. Some are hard to find, or in some cases, out of print; these books you'll most likely find at your local library or through interlibrary loan, or at used bookstores, or through specialist costume book dealers. You can also check out the variety of Booksellers & Book Search Services available online.

For a more complete listing of online sites selling Elizabethan books, patterns,accessories and costumes, check out the Elizabethan Merchants. If you want a more complete listing of historical costume books available for the costume researcher, you can browse my Costume Library.
---
The Tudor Tailor: Recreating 16th Century Dress by Jane Malcolm-Davis and Ninya Mikhaila 2006, In Print

If you are going to get one book on Elizabethan costuming, this should be it. This newly published work is the definitive book for those interested in Elizabethan costume. It contains patterns for over 36 16th century garments, all based on impeccable research, and describes in detail the methods and techniques used to make clothing in the 16th century. It's that rare combination of a how-to book on costuming that's firmly grounded in top-notch research. Full of inspirational full-color photos, of both original garments and recreated ones.
Patterns of fashion : the cut and construction of clothes for men and women, c1560-1620 by Janet Arnold. Pub. MacMillan, © 1985 (in print)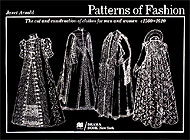 This is the essential book for those interested in authentic period recreation of Elizabethan clothing. Arnold shows photographs of actual garments from the time, and gives to-scale pattern layouts of them accompanied by detailed notes about on construction--number of stitches per inch, composition of the fabric, seam widths, and more. The beginning section is chock full of pictures and information about Elizabethan clothing. This is the book I use to check seam placement, sleeve construction, and fabric composition for garments. I learn something new every time I read it.
Period Costume for Stage and Screen 1500-1800, by Jean Hunnisett. Pub. Unwin Paperbacks, © 1988. (in print)
Although this book is aimed at the theatre costumer, it contains invaluable information for the serious historical costumer as well. Hunnisett covers the basics on draping and fitting bodices, how to achieve the proper silhouette for a given time period, tips for creating everything from corsets to ruffs, and patterns for Tudor, Elizabethan and Jacobean underpinnings as well as the gowns and doublets seen in a number of famous Elizabethan portraits. The author's clear pictures and diagrams, as well as her step-by-step instructions for creating an authentic-looking garment, make this a real keeper for the Elizabethan Costumer.

This book assumes a basic knowledge of sewing and,aside from ruffs and loose gowns,concentrates on female garments. Although gowns and clothing created from the instructions in this book would look beautifully authentic, the stickler for "skin-out period authenticity" will want to cross-check the construction techniques described herein with other books as well, such as Janet Arnold's Patterns of Fashion (listed above). Period Costume for Stage and Screen is in print, and available from all major booksellers.
Queen Elizabeth's Wardrobe Unlock'd by Janet Arnold (out of print)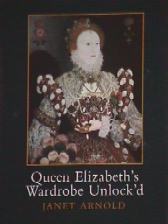 This book is sometimes called the "Bible" of elizabethan costuming. It's huge. It's expensive. And it's worth every penny. Written by the same women who wrote Patterns of Fashion (listed above), this book discusses and documents every aspect of women's fashion during Elizabeth's reign, concentrating on the Queen herself. It contains portraits and photos of period costume and accessories, Queen Elizabeth's wardrobe records and accounts (transcribed and annotated), as well as a truely awe-inspiring glossary of period costuming terms. And that's just for starters.

This books is aimed toward more serious Elizabethan costume researchers, rather than those interested in a basic intro to Elizabethan costuming. It would take many pages to catalogue all of the information contained in Queen Elizabeth's Wardrobe Unlock'd. It is in print again, but quite expensive. It's rather hard to find, but can be ordered through Amazon.co.uk. If you don't want to shell out $150, which is approximately what it costs, get it through interlibrary loan.
A Visual History of Costume: The 16th Century by Jane Ashelford. Pub Drama Book Publishers, New York, © 1983 (out of print)
When I'm looking for inspiration and costuming ideas, I turn to this book. It consists of portraits of men and women, dating from 1500 to 1600, accompanied with a detailed description of the costume and accessories in each picture. Many pictures in this book aren't found in the usual broad-spectrum "History of Costume" books, and depict everyone from washerwomen to queens. All in all, this is a really great research resource and idea book. It is unfortunately out of print, but may be found at used book stores, specialist bookstores, or libraries.
Tailor's Pattern Book,1589 by Juan de Alcega. Pub. Quite Specific Media Group, © 1999 (in print)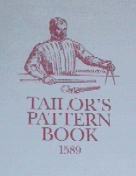 after 36 years, it's finally back in print! A longtime grail of Elizabethan costume researchers, this book is one of the best sources for primary documentation of Elizabethan costume. It is is a facsimile of Juan de Alcega's famous Tailor's Pattern Book, printed in 1589, containing the layouts for the entire range of Spanish fashionable dress. The original pages, covered with pictures of pattern pieces for doublets, coats, kirtles and mantles laid out on lengths of fabric, are accompanied by English translations and extensive annotations by the editor, Ruth Pain. It also contains information on fabric types/widths used during the 1500s, and equivalency charts for 16th century units of measurement.
Tudor Costume by Herbert Norris. Pub. Dover , &copy 1997 (in print)

A reprint in one paperback volume of the two-volume book on 16th century costume first written more than 60 years ago. It is a good summary book on Elizabethan and Tudor costume, filled with hundreds of drawings of dress, jewelry, and other costume accessories. Some of Norris' information is out of date, and some of his conclusions dubious; this is a good book for quick reference and for general information on Elizabethan costume, but not a one-stop source for reliable 16th century costume information. Norris does contain a broad array of information on headwear, hairdressings, shoes, equestrian trappings, and other aspects of 16th century dress which most costume books cover only briefly. It's best used in conjunction with more reliable costume history books for those interested in authenticity.
Costume in the Drama of Shakespeare and his Contemporaries, by M. Channing Linthicum. (out of print)
This out of print and hard-to-find book contains in-depth and extensively footnoted information on Elizabethan fabrics and colors, information not contained in any other book on 16th century dress. It also covers stage costume and costume in plays during the Elizabethan era, and diverges into such topics as the textile trade, quirks of fashionable dress and the evolution of dyes in Elizabethan England. Once I'd read it, I didn't know how I'd gotten along without it. More of a research resource than a practical book on Elizabethan costume construction, this book is a must-have for the serious 16th century costume historian.
"Lost from Her Majesties Back", by Janet Arnold. Pub. Costume Society, © 1980. (in print)
This little book, published by the Costume Society, is a real gem. It lists items lost off of Queen Elizabeth's gowns during processions and the course of daily wear and tear, as well as gifts of clothing given to the Queen and by her to others. Includes a very handy glossary of period clothing terms, insightful commentary by the author, and a fascinating look at Elizabethan taste in fashion. (orange and purple, with gold trim?) This book is hard to find. You can either contact the Costume Society directly (listed at the bottom of this page), look for it in University libraries, or try to find it through interlibrary loan.
Handbook of English Costume in the 16th Century by C.W. & P. Cunnington. Publ. Faber and Faber Ltd (out of print)
This books lays out English Tudor and Elizabethan costume simply and clearly, with several good-quality, attributed line drawings and footnotes. Although it's a basic book, it does a good job of covering all bases and contains more reliable information than other "Introduction to Elizabethan Costuming" books, such as Norris's Tudor Costume. It covers both men and womens' clothing and focuses more on the research end of the spectrum; there is little if any "how to" information in it. If you're looking for a reliable basic book that's not as daunting as Queen Elizabeth's Wardrobe Unlock'd, however, this is a good choice. It is out of print and quite hard to find to buy, but can be easily found through inter-library loans.
I have seen the following books listed in bibliographies on elizabethan costume, but have not read them myself:
Dress in the Age of Elizabeth by Jane Ashelford: Publ: B.T. Batsford Ltd, London. c. 1988

English Costume-from the Second Century BC to 1950, by Doreen Yarwood. pub. David & Charles, ©1973.

English Dress in the Age of Shakespeare, by Virginia A. LaMar. Washington,D.C.: The Folger Shakespeare Library, 1958.

History of Costume-1500-1660. Illustrator: Faith Jacque, Commentary: Margaret Stavridi

Costume in England-A History of Dress, by F. W Fairholt. London: George Bell and Sons, c. 1968.

Costume of HouseHold Servants: from the middle ages to 1900 by Phyllis Cunnington.

Women's Headdresses and Hairstyles in England from AD 600 to the Present Day, by Georgine de Courtais. London: B.T. Batsford, c. 1974.
Deborah Pulliam's Janet Arnold Bibliography lists every article, book or monograph ever published by the famous Elizabethan costume researcher.
---
Online Sources for Hard-to-find Costuming Books
Booksellers:
Online Book Searches Check out bookfinder.com to quickly search several book search services for rare and out-of-print books.
---
Home